Information COVID-19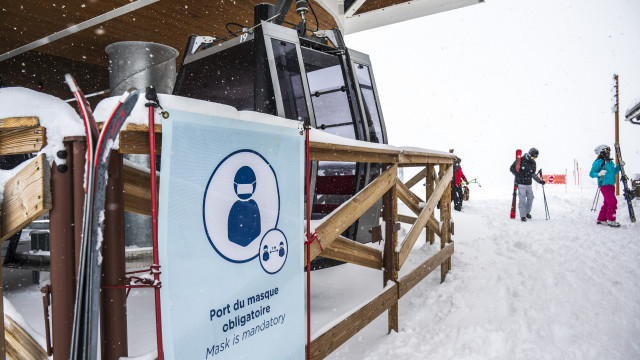 17/11/2021 at 11:32am
Skiing is now just around the corner. Here, we are all mobilized to prepare the winter and welcome you in the best conditions.
"Pass sanitaire" / Health Pass
Good news! The ski lifts will definitely be open. However, with regard to how the pandemic may progress, the trigger threshold as outlined by the French government of 200 cases per 100,000 residents may be reached. If this is the case, the Health Pass will be compulsory to use the ski lifts and random verifications will be carried out during boarding.
As for the other leisure facilities (bars, restaurants, cinemas, museums, etc.), the national rules for France apply. As it stands, the Health Pass is required for anyone over the age of 12.
Masks must be worn while queueing for the ski lifts and in the cable cars.
Where can I get tested?
Menuires Medical Centre (open 7 days a week in winter) and the pharmacy in Saint-Martin-de-Belleville provide lateral flow tests with a reservation.
You can book to get a PCR test at the Synlab laboratory in Moûtiers or by contacting one of the nurses in the valley on +33 7 86 26 46 02. It will also be possible to do PCR tests this winter directly in Les Menuires (details to come).
Cancel at no cost
Accommodation providers are proposing flexible cancellation terms. On the website Saint Martin reservation, most of the proposed accommodation have "free cancellation" labels which means that you can cancel your booking until 8 days before your arrival date, if you do so for a reason linked to the health crisis.
Large areas and outdoor activities
The mountains are the ideal place to get away from it all and explore new horizons, far from the crowds of the coast and the big cities. The mountains offer a breath of fresh air to take time for yourself and your family.
Wearing masks
As from Friday 30th July, face masks are compulsory throughout the department of Savoie for anyone aged 11 and above, for the following purposes:
to join gatherings, meetings or activities organised on the public highway or at venues open to the public, whenever this leads to concentrations of more than 10 people;
at markets, bric-a-brac sales, car-boot sales or similar activities;
in any queue forming outside a stadium, auditorium, projection room, sports facility, marquee, games room, museum, station, shop or cultural venue.
Masks must be worn while queueing for the ski lifts and in the cable cars.
Border control & Health Pass for foreigners
The digital Anti-Covid certificate issued by the EU is recognised across the whole of Europe, but each country is responsible for its own rules for entering the country, as they have not been standardised across Europe.
This means you will need to find out about the rules for entering your destination country before travelling (there and back).