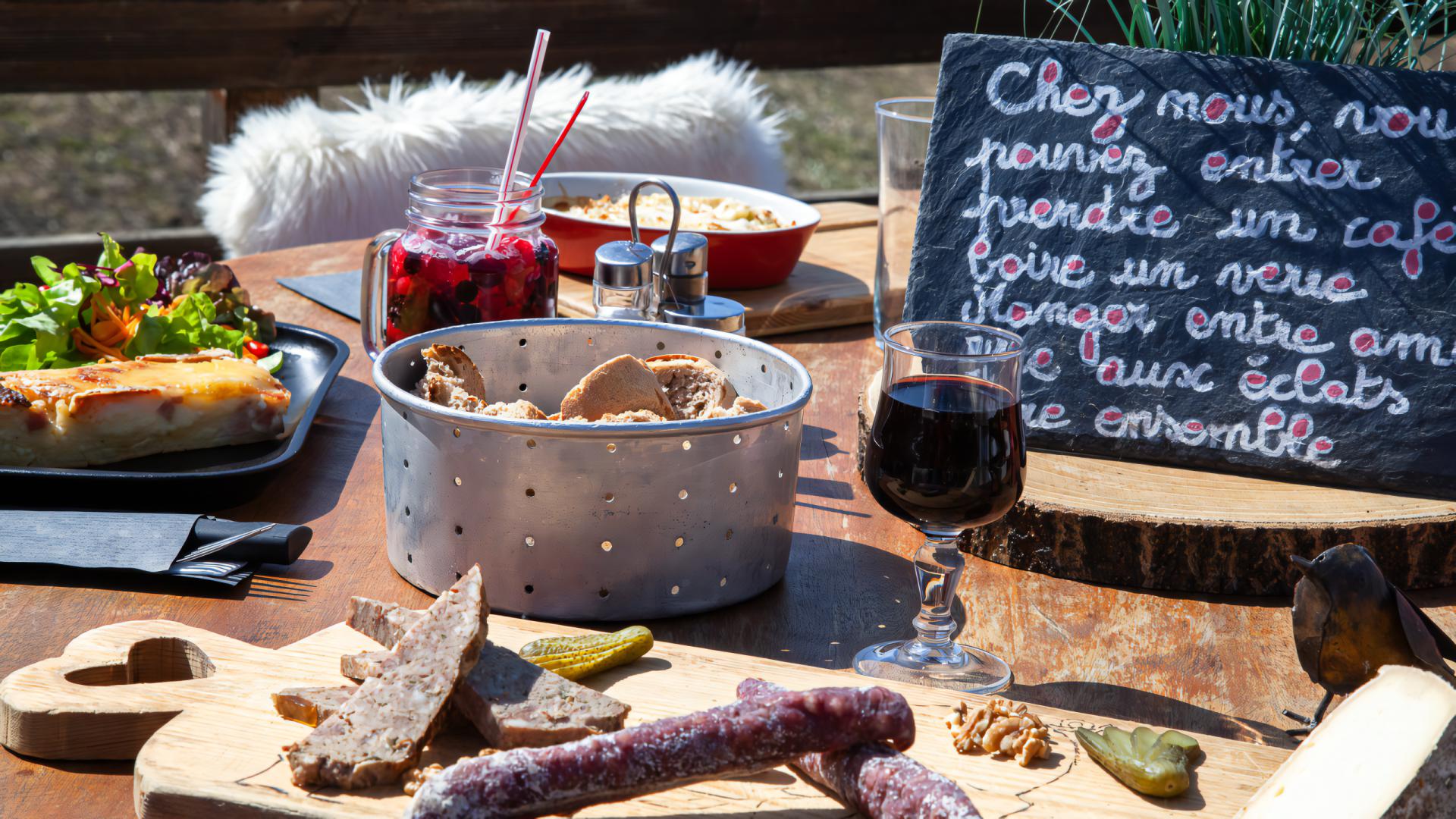 Le Corbeleys, a traditional Savoie mountain restaurant
03-08-2022 in Art of living
Deep in the mountains, on the 3 Vallées ski slopes and the summer hiking routes, stands the Corbeleys, a mountain restaurant with an authentic feel and a warm and friendly atmosphere. Martine, who has run this establishment since 1985, will welcome you with a smile to her grandparents' mountain chalet.
What is the story behind your restaurant?
— Le Corbeleys is an old mountain chalet that belonged to our grandparents who used to bring their animals up here in spring, summer and autumn. With my brothers and sisters we carried out repairs in 1985 to convert it into a mountain restaurant and I've been working here since the very start of the venture. My brother joined me 17 years later because he was previously a ski instructor. We've been running the restaurant together ever since.
Inside the restaurant, old photos of Martine's grandparents are displayed on the walls. You can still feel the simplicity of the olden days, right down to the menu which still features her grandmother's recipes.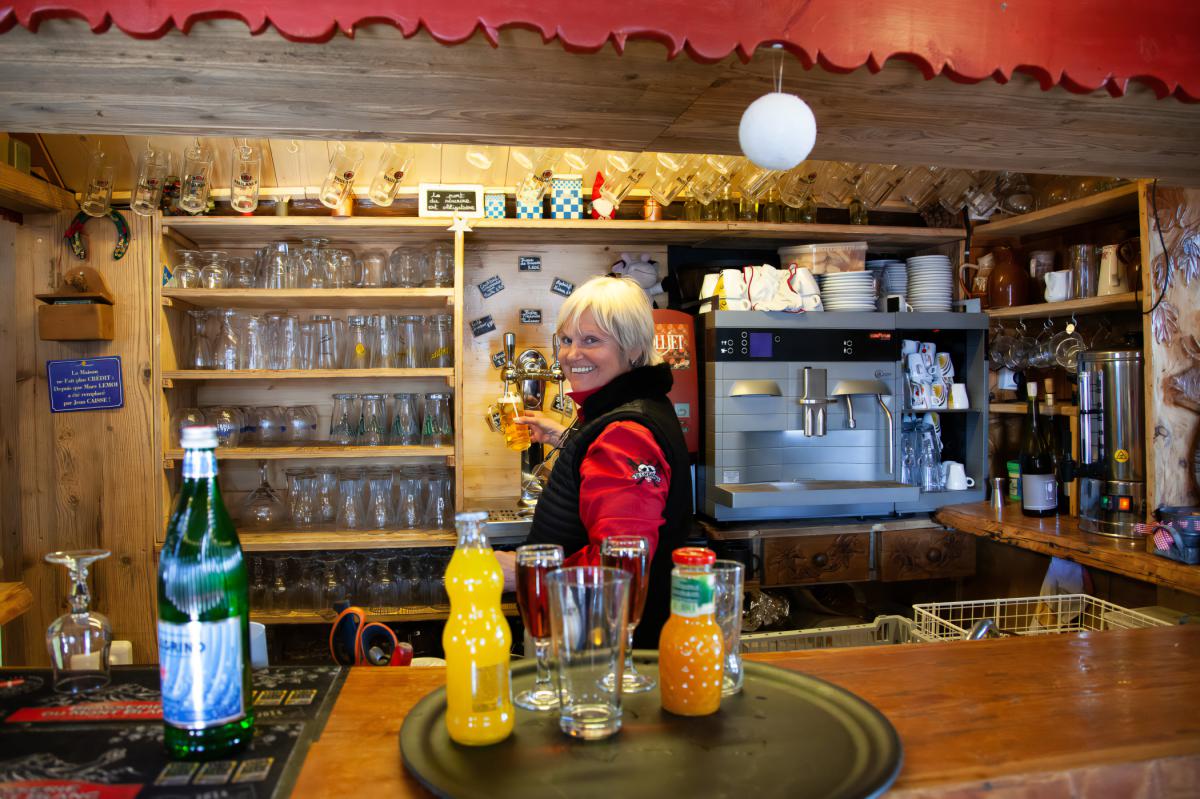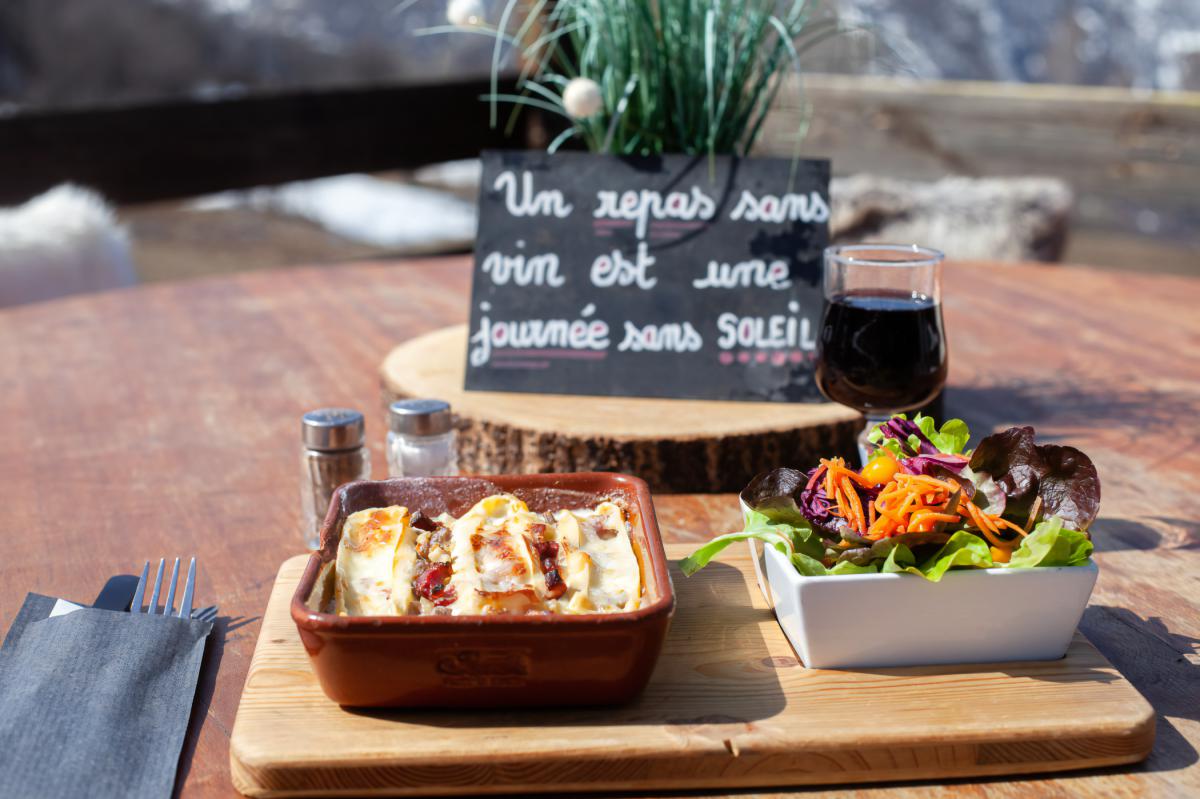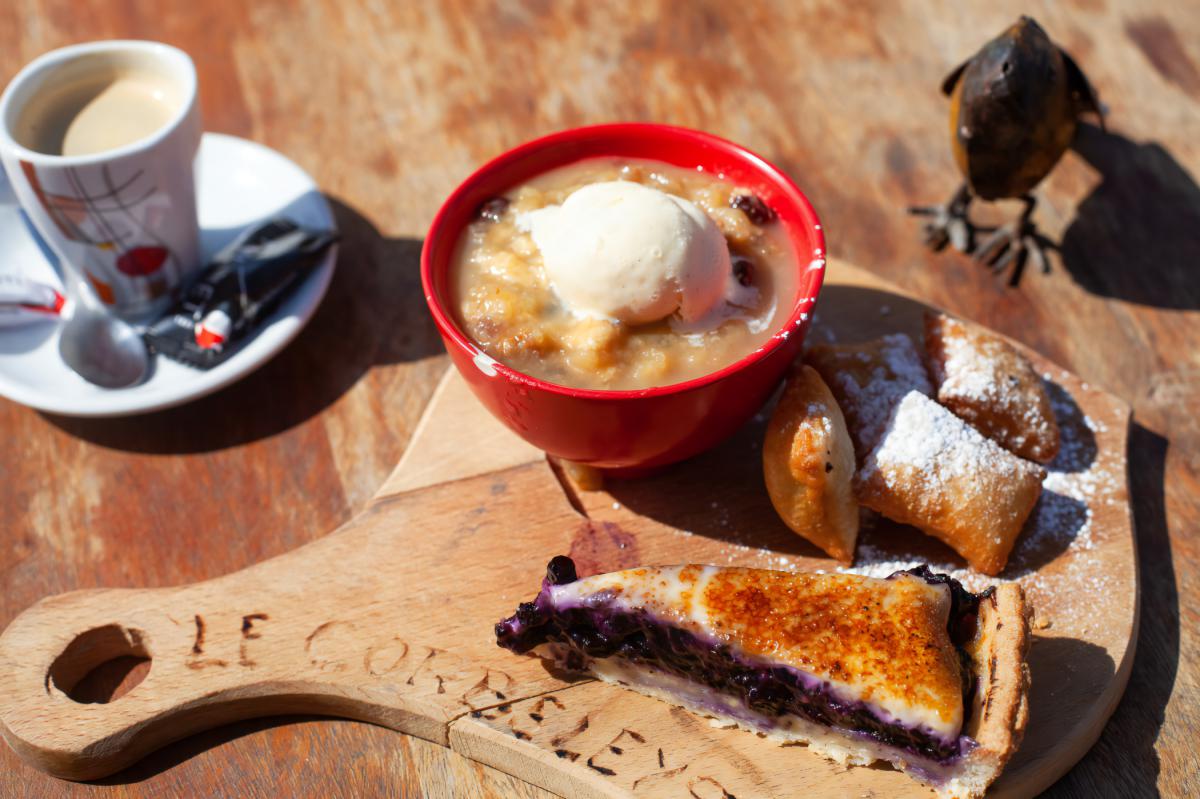 What's the chef's name? What is his story?
— The chef's name is Nicolas Laberousse and he has been working with us for 12 years. He first arrived in 2002 and worked at the Corbeleys for 9 consecutive winters, as we didn't open in summer back then. He then left for Albertville where he spent 7 years before coming back here 3 years ago. He has worked for us ever since and is always present, even between seasons because he lives in Les Menuires all year round.
What dish best represents your establishment?
— The "quiche mémé" is the restaurant's iconic dish because it's the quiche my grandma Nini used to make. It's my grandmother's recipe which she later revealed to the cooks. If you want to eat a typical Savoie dish, popular choices are the "croziflette" and the Belleville "diot" sausages.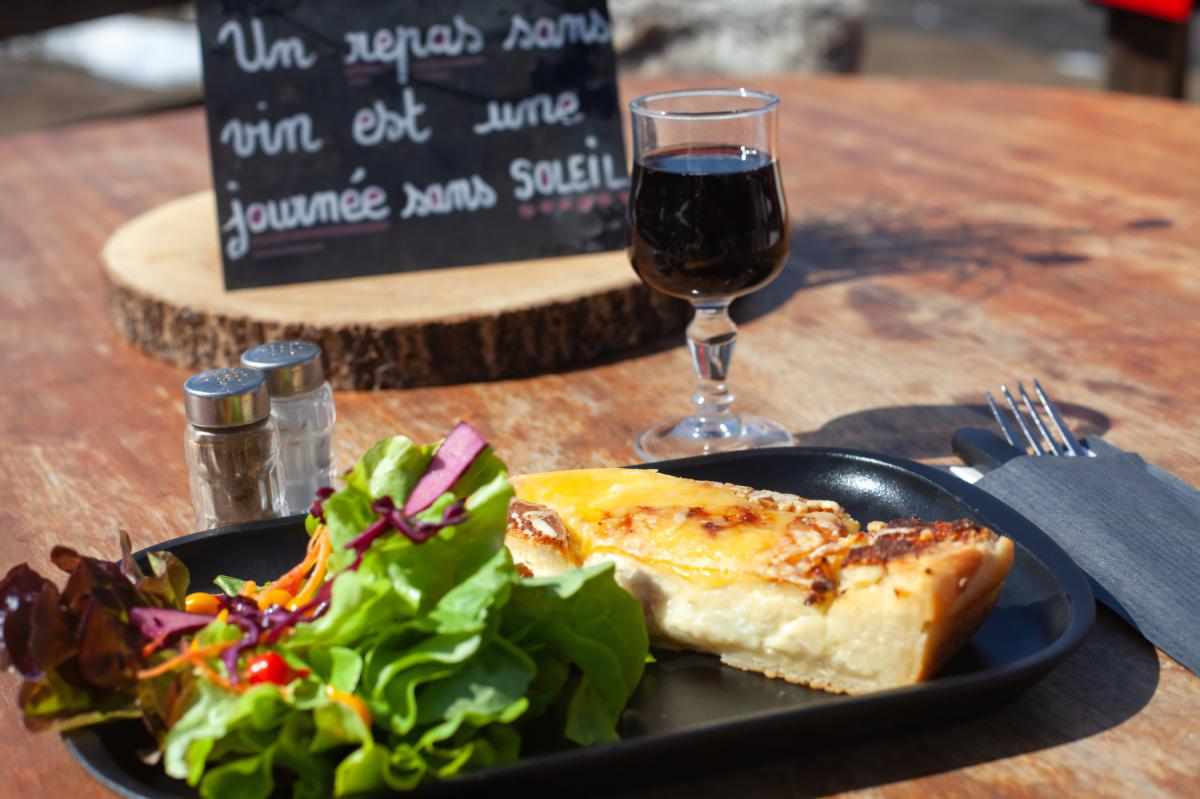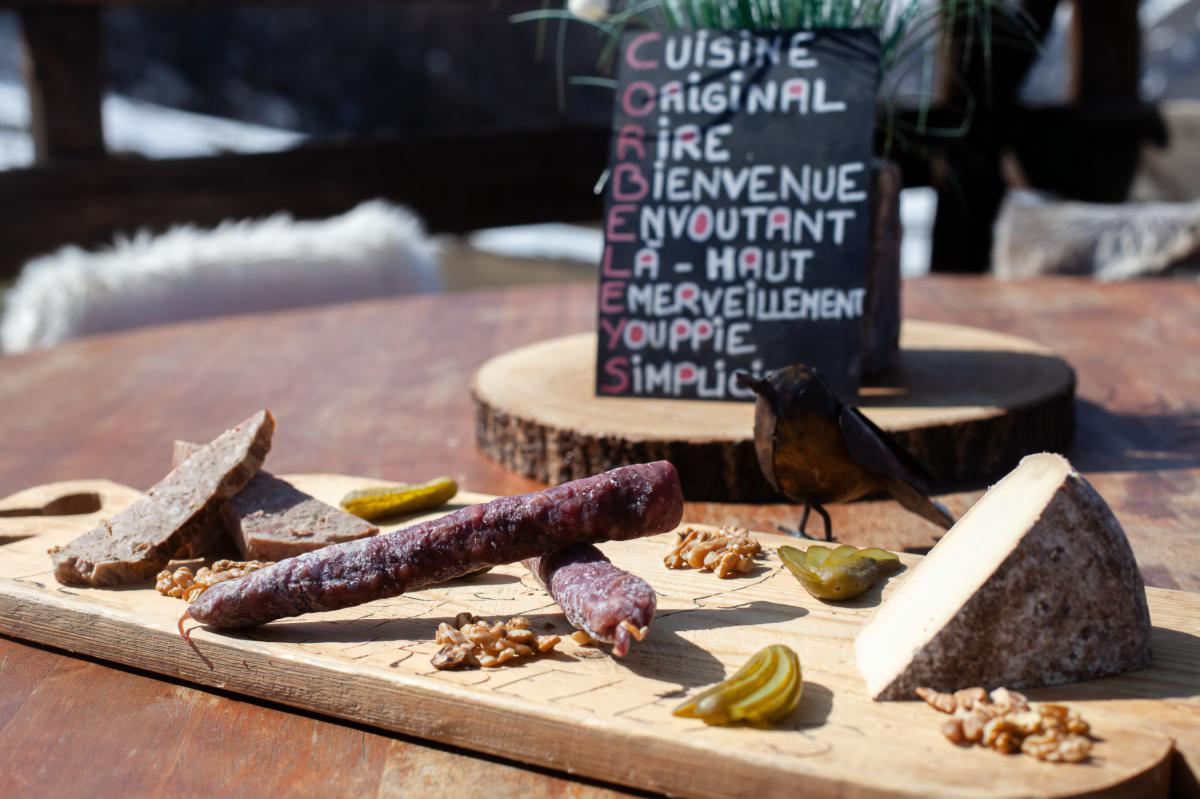 Do you have a dessert to recommend?
— I recommend the Géfrian tart, our signature dessert topped with crème brûlée. Or there's the "gourmandise du pépé", 3 desserts in one: Géfrian tart, our grandmother's rissoles and "farçon" made with 10 ingredients (apples, raisins, brioche, gingerbread, eggs, milk, etc.) and served hot with a scoop of vanilla ice cream. Both of these signature desserts are very popular.
Where do you get your supplies from?
— We work with fresh products and follow the seasons when it comes to fruit and vegetables. We purchase farm produce from Ferme de La Trantsa at Le Chatelard in Saint-Martin-de-Belleville and we get our "crozets" from Rullier in Seez. As for the wines, our selection features Savoie wines obtained directly from local wine estates.
What is the ethos of your cuisine?
— Authenticity. We enjoy cooking recipes of old, the simply and tasty dishes that our grandmother used to make.
What are your plans for the future?
— We intend to continue doing exactly what we're doing now, in a spirit of authenticity with the focus on contact with our clients. We enjoy chatting with them and they leave here happy to have heard our story.
Do you have a favourite place in the valley?
— I love the Montagnard restaurant, the Trait d'Union refuge, and also Chez Pépé Nicolas. I like those places for their feel-good vibe when we get together there with friends and family.
What are your favourite ingredients?
— Our favourite ingredients are the local products! Whether it's "diot" sausages, Savoie tomme cheese, polenta or crozet pasta, plain or with buckwheat, we use them everyday in our dishes, much to the delight of the tourists that come to eat here.
Visit the website of the Le Corbeleys restaurant
Last update: 24-02-2023 3:07 PM